Club Records
Run a record time?  Please let the club know so that it can be included.
Youth
Women
U17L  U20L  Senior  W35  W40  W45  W50 W55 W60 W70
Men
U17M  U20M  Senior  V40  V45  V50  V55  V60  V65  V70  V75  V80
Overall
To compare across the all events and distances, World Athletics (formerly the IAAF) publish charts that give a relative point score to times/heights/distances achieved for all events.  Using these charts, we have detailed the club record for each distance.   Perhaps there is a club record up for grabs!!   
Calculate you own scores for your PBs using the charts below or this link to an online calculator.  Challenge yourself to improve your own score!  What do the scores tell you about your best event?
World Athletics Scoring Table - Outdoor events
World Athletic Scoring Table - Indoor events
Congratulations Luke Caldwell!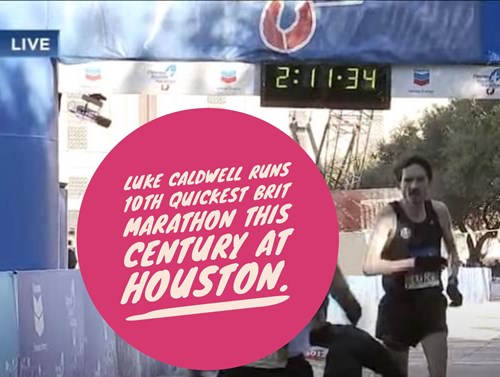 DMVAC club member, Luke Caldwell, came 7th in a time of 2:11:33 at at the Chevron Houston marathon, USA 2022.
Not only is this a club record but his result is 37th on the British all time marathon list and is the 10th fastest this century...and it was Luke's marathon debut!!!!  HUGE congratulations, Luke!